---
A BEAUTIFUL LANDSCAPE adds instant curb appeal and increases property value. Every landscape needs regular care and maintenance to stay green and healthy, but most people don't have the time or energy to commit to landscape care. Good Earth Landscaping & Maintenance offers Aspen landscaping services for private homes and businesses. With over 25 years of experience, we can guarantee a beautiful, green, and healthy landscape for your home or office, so you can spend your time on the things you enjoy. ↓
---
---

DESIGN + INSTALLATION
---
At Good Earth, we provide a variety of different landscape design and installation services that will enhance the beauty of your surroundings. Our team of landscape design experts can help you create a luxury landscape setting for your Aspen home or office where you will love spending time outdoors. Our design and installation services include lawn renovations, garden design, planting, hardscaping, outdoor lighting, and irrigation systems. We're also equipped to tackle those more significant projects like land excavation, land and brush clearing, and irrigation and drainage problems.
---
Aspen is a beautiful place, and people love spending time outdoors year-round. By adding outdoor features to your backyard, you can create a comfortable, inviting atmosphere with unique spaces for relaxing and entertaining with family and friends. Outdoor features like pavilions and pergolas, walkways, patios, and outdoor fountains can transform an ordinary backyard into one with stunning appeal. Whether you prefer a winding stone walkway to the rose garden, a new brick patio with an outdoor kitchen, a pond, or a cozy backyard fire pit, our team can handle the design and installation.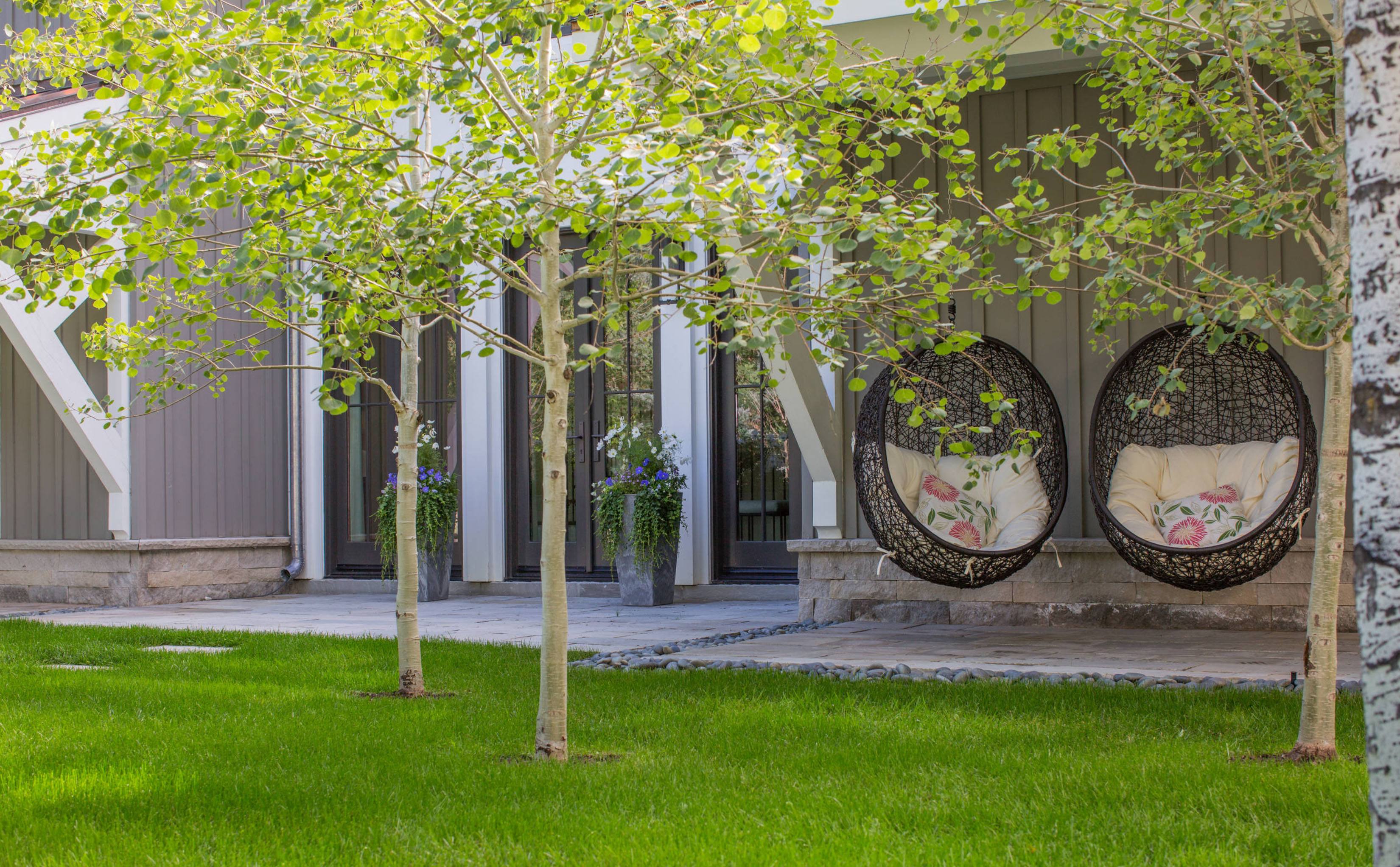 ↣ We curate environments that helps you live your best Aspen life: outdoors.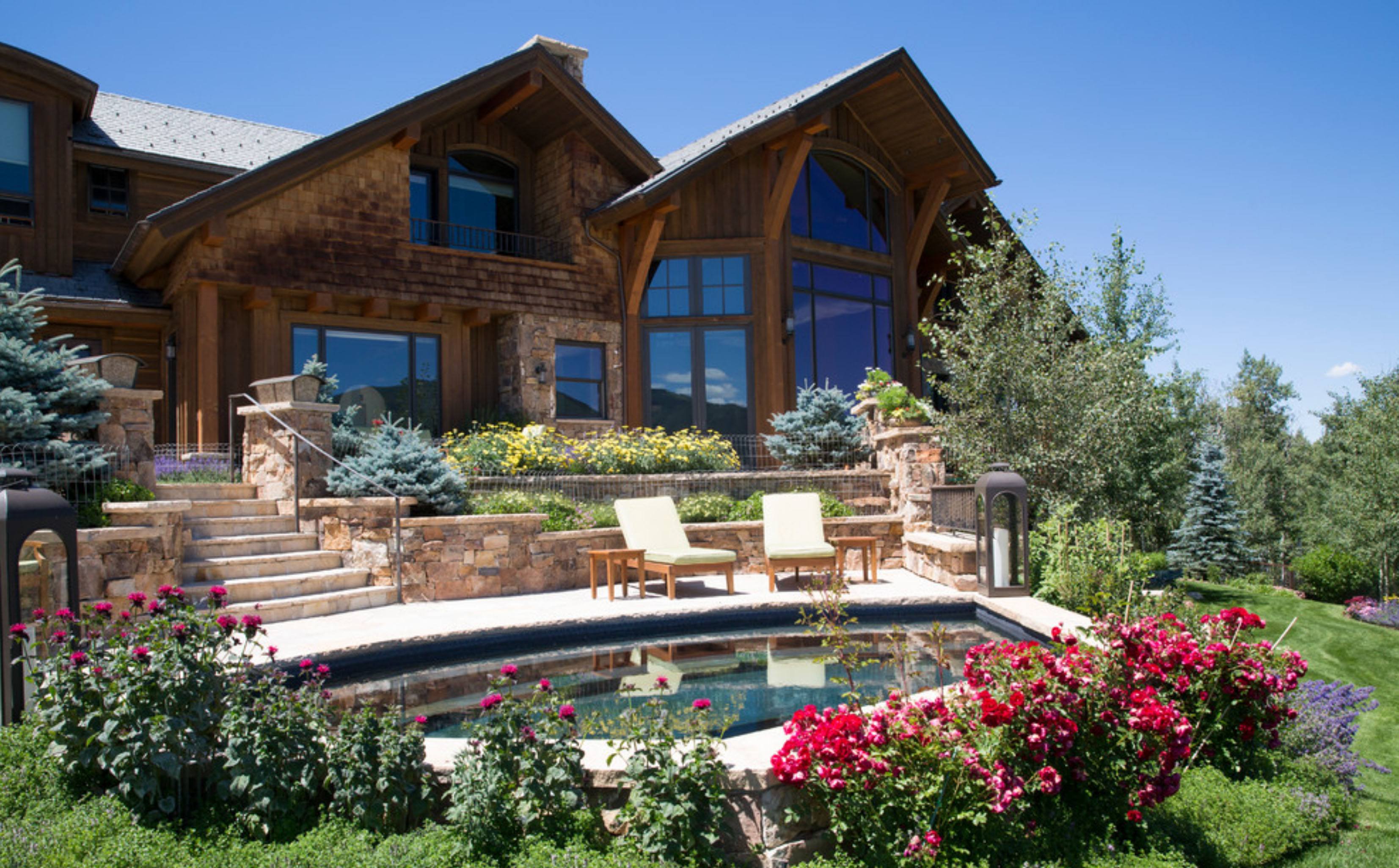 ↣ Our designers think of every detail – even the ones not on your property.
---
Our design and installation teams work closely with each client to determine immediately, and future Aspen landscaping needs and budget requirements. For outdoor features, we pay attention to essential details like selecting the best landscape location, building the right size outdoor feature for activities, using the most durable materials, and finishing projects on time and budget. At Good Earth, we want to make sure that each client is happy with the final results of every project.
Design services | Landscapes + Outdoor Living Spaces
Demolition | Demolition + Light Excavation
Due Diligence | Site work, Utility Installation, Concrete Preparation
Custom Concrete Work | Walkways, Driveways, Walls
Retaining Work | Boulders + Stone, Stone Faced Masonry,
Pre-Cast Block
Masonry Features | Fireplaces + Pits, Hot Tub Enclosures, BBQs
Water | Custom Features, Streams, Ponds
Erosion | Control, Seeding, Revegetation

Low Voltage Landscape Lighting

Tree / Shrub / Garden Installation
Regular care and maintenance are essential to a healthy, well-maintained landscape. Without it, your lawn, plants, shrubs, and trees will become overgrown, resulting in a landscape that looks neglected and ill-maintained. When your lawn and landscape becomes crowded, it's susceptible to all types of problems such as weeds, lawn diseases, and outdoor pests. Hiring a professional company like Good Earth for year-round Aspen landscaping maintenance will keep your landscape looking it's best and free of problems throughout the year.
A beautiful, healthy landscape requires regular maintenance and attention to signs of potential problems. Quality care requires expert knowledge and experience with proper lawn mowing techniques, types of grasses and soil, plant growth patterns, fertilization and pruning schedules, light and climate conditions, and adequate irrigation and drainage. When any of these necessary maintenance issues are neglected, your landscape will suffer the consequences.
For optimal appearance and health of your landscape, professional landscaping knowledge and quality care optimized for our Aspen climate and soil is essential to maintaining an expertly-curated property.
---
Good Earth Care + Maintenance Services
Landscape maintenance requires time, commitment, knowledge, and skill. Unless you're willing to spend a lot of time learning about proper landscape care and maintenance procedures, it's best to hire a professional company who understands the advantages and disadvantages of different landscape care techniques and products.
---
Year-round landscape maintenance is essential to keeping your landscape healthy and thriving. In Aspen, seasonal changes in climate and weather conditions put extra stress on the growth and vitality of your lawn, plants, shrubs, and trees. An experienced landscaping company who's knowledgeable about seasonal Aspen landscaping requirements can ensure that your landscape stays healthy throughout extreme climate changes during the year.
---
Spring – With lots of sunshine and spring showers, spring is a significant growth season. Your lawn, plants, and trees grow at a much faster pace sprouting new green foliage. After a cold Aspen winter, giving your landscape proper nutrients to build strong, healthy roots and jump-start new growth is essential.
Summer – Summer season brings hot sun, less rainfall, dry air and soil, and outdoor pests. Your grass, plants, and trees are still growing in summer, but these conditions can quickly deprive your landscape of necessary nutrients and adequate moisture needed to sustain healthy growth during the heat.
Fall – As fall approaches, growth starts to decline. Your grass may begin to turn brown, and your plants, shrubs, and trees will begin to lose their leaves and branches. Fall is a critical time of year to get rid of dead growth in your landscape and clean up leaves and debris before winter weather begins.
Winter – Winter is not a growing season, but you still need Aspen landscaping care to prepare for spring.
---
---
Living in Aspen means cold winter temperatures that bring harsh winter storms with lots of snow. Chances are you'll need snow removal services several times during the winter season to get rid of snow that piles up around your property. Since there is no way to predict when a snow storm will hit or how much snow it will bring, preparing for snow removal services before winter arrives is a good idea. You don't want to get stranded in a snowstorm with no way to get to work, pick up the kids, or get back home. Good Earth can help you make a plan for snow removal services to make sure that you don't get stranded by Aspen winter weather conditions. We provide snow plowing and snow removal services during the winter season with state-of-the-art equipment and well-trained crews. We can tackle those tough snow removal jobs to make sure that your property stays clear and safe. Planning for snow removal services will protect your property and prevent snow-and ice-related accidents that often result in serious injuries.
---
Blowing + Off Site Removal
Hand Shoveling of Walkways, Decks, Patios
---
If you're currently taking care of your own landscaping needs, maybe it's time to consider professional help. For more information on landscape services we provide, contact us at Good Earth Landscaping & Maintenance. We can help you with all of your Aspen landscaping needs for your home or business.
---